Announcing America's Top Industry Leaders for Multicultural Business Opportunities
Immediate Release | Southport, CT
Southport,  CT,  March 20, 2018/- Today, OMNIKAL announced "America's Top Industry Leaders for Multicultural Business Opportunities."
The list represent the top U.S. organizations within each industry who are awarding the most business to the growing culturally diverse marketplace. These same organizations are also successfully appealing to the growing millennial generation, which, by 2020, will be the largest diverse market segment in America (a market segment that is forcing brands to evolve from minority/diversity paradigms to inclusion).
Organizations who have surfaced on top as the #1 organization for each industry include:

| | Industry | | #1 Organization |
| --- | --- | --- | --- |
| | Technology | | Apple, Inc. |
| | Automotive | | General Motors |
| | Defense | | Northrop Grumman Corporation |
| | Financial Services | | Bank of America |
| | Transportation | | UPS |
| | Consumer Products | | Colgate-Palmolive Company |
| | Retail | | Walmart Inc.  |
| | Energy | | Royal Dutch Shell |
| | Telecommunications | | AT&T Inc. |
| | Healthcare | | Walgreens |
| | Pharmaceuticals | | Pfizer Inc. |
| | Food and Beverage | | The Coca Cola Company |
| | Not For Profit | | AARP, Inc. |
| | Public Utilities | | Pacific Gas & Electric |
| | Media/Entertainment | | Time Warner Inc. |
| | Hospitality | | Hilton Worldwide |
| | Government | | United States Postal Service |
Who are the America's Top Industry Leaders for Multicultural Business Opportunities?
The "Top Industry Leaders for Multicultural Business Opportunities" represents the voice of OMNIKAL's 2,100,000 members. The list is circulated by over 1000 organizations, which reaches millions of consumers every year. Since 1999, it has become a highly valued metric of excellence in reaching the diverse and inclusive majority marketplace.
The list is the most recognized honor for diversity and inclusion in the country.  These award-winning companies truly differentiate themselves in the marketplace in a time when inclusion has become one of the most important goals of every organization. It is also at a time when public recognition is key to ongoing financial, ethical, social and cultural success.
"The inclusion practices of the Awardees have changed the course of our current economy and as a result, the world as we know it" said Kenton Clarke, CEO of OMNIKAL. "The changing multicultural and multi-generational landscape of our country has demanded this evolution. OMNIKAL is proud to have been a force in the business world for such positive change. Our mission and goal is to equalize, broaden and level the playing field for both brands and an increasingly varied vendor/supplier marketplace."
Top Honors for Top Organizations Who Do the Right Thing
Most "top" lists honor companies for traditional economic growth, shareholder returns and similar metrics; however, the list is an indicator of which organizations provide the best business opportunities to the increasingly inclusive majority marketplace. This, in turn, influences more organizations, as they compete for market share in multicultural and multigenerational communities.
The Business Power of Inclusion
As the culturally diverse market gains more buying power, corporations have to focus their efforts on rebranding and reorganizing to avoid losing market share and to remain current and relevant.
The Top Industry Leaders list has therefore become the most critical guide for businesses as well as consumers. "As a business owner, I appreciate the business we receive from corporate buyers; and in turn, when I buy either personally or for my company, I am more likely to buy from the same companies that support my business or are supporting businesses like mine," said Kathy Steele, principle of Red Caffeine headquartered in Elmhurst, Illinois.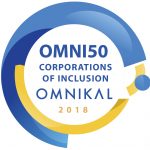 About OMNIKAL
OMNIKAL was founded in 1999. Now the Nation's largest inclusive business organization, OMNIKAL promotes entrepreneurship and the belief that entrepreneurs create real world solutions to today's business and economic challenges. By fostering deeper and broader collaboration between business owners and entrepreneurial support organizations, the OMNIKAL network fuels healthier ecosystems through job creation, professional development and drives innovation resulting in strong economic growth.
Pre vote press release:  https://www.omnikal.com/2017/11/omni-50-election-2017/
Press Contact: Quantise Rodgers | Director of Communications | OMNIKAL | 203 255 8966 | quantise@omnikal.com | www.omnikal.com |