Announcing America's Top 50 Organizations for Multicultural Business Opportunities
Immediate Release | Southport, CT
Southport,  CT,  February 19, 2018/- Today, OMNIKAL announced "America's Top 50 Organizations for Multicultural Business Opportunities",  known as the "Omni50."
The Omni50 represent the Top 50 Organizations who are awarding the most business to the growing culturally diverse marketplace across the United States. These same organizations are also successfully appealing to the growing millennial generation, which, by 2020, will be the largest diverse market segment in America (a market segment that is forcing brands to evolve from minority/diversity paradigms to inclusion).
Apple Inc. was named the #1 Organization for Multicultural Business Opportunities in the United States. Other companies at the top of the winners list include: Walmart Inc., Northrop Grumman Corporation,AT&T Inc., IBM, The Coca-Cola Company, Bank of America, Raytheon Company, Verizon, General Motors Company, Time Warner Inc., PepsiCo Inc., United Parcel Service, Cisco Systems, Inc., Colgate-Palmolive Company, Altria Group and The Kroger Company.
Who are the Omni50?
The Omni50 represents the voice of OMNIKAL's 2,100,000 members. The list is circulated by over 1000 organizations, which reaches millions of consumers every year. Since 1999, it has become a highly valued metric of excellence in reaching the diverse and inclusive majority marketplace.
The Omni50 Awards is the most recognized honor for diversity and inclusion in the country.  These award-winning companies truly differentiate themselves in the marketplace in a time when inclusion has become one of the most important goals of every organization. It is also at a time when public recognition is key to ongoing financial, ethical, social and cultural success.
"The inclusion practices of the "Omni50" Awardees have changed the course of our current economy and as a result, the world as we know it" said Kenton Clarke, CEO of OMNIKAL. "The changing multicultural and multi-generational landscape of our country has demanded this evolution. OMNIKAL is proud to have been a force in the business world for such positive change. Our mission and goal is to equalize, broaden and level the playing field for both brands and an increasingly varied vendor/supplier marketplace."
Top Honors for Top Organizations Who Do the Right Thing
Most "top" lists honor companies for traditional economic growth, shareholder returns and similar metrics; however, the Omni50 awards are an indicator of which organizations provide the best business opportunities to the increasingly inclusive majority marketplace. This, in turn, influences more organizations, as they compete for market share in multicultural and multigenerational communities.
The Business Power of Inclusion
As the culturally diverse market gains more buying power, corporations have to focus their efforts on rebranding and reorganizing to avoid losing market share and to remain current and relevant.
The Omni50 list has therefore become the most critical guide for businesses as well as consumers. "As a business owner, I appreciate the business we receive from corporate buyers; and in turn, when I buy either personally or for my company, I am more likely to buy from the same companies that support my business or are supporting businesses like mine," said Kathy Steele, principle of Red Caffeine headquartered in Elmhurst, Illinois.

Rank
Top 50 Corporations
Rank
Top 50 Corporations
1
Apple Inc.
27
The Home Depot, Inc.
2
Walmart Inc.
28
Capital One Financial Corporation
2
Northrop Grumman Corporation
29
MetLife, Inc.
3
AT&T Inc.

30
Pfizer Inc.
4
IBM
31
Prudential Financial
5
The Coca-Cola Company
32
Nestlé
6
Bank of America
33
Nationwide Mutual Insurance Company
7
Raytheon Company
34
New York Life Insurance Company
8
Verizon
35
Molson Coors
9
General Motors Company
36
Cardinal Health
10
Time Warner Inc.
37
CVS Health
11
PepsiCo Inc.
38
Fannie Mae
12
United Parcel Service
39
Nordstrom
13
Cisco Systems, Inc.
40

JPMorgan Chase & C

ompany
14
Colgate-Palmolive Company
40

Nielsen Holdings PLC

15

Altria Group

41
Starbucks Corporation
16
The Kroger Company
42
The Kellogg Company
17
Toyota Motor Corporation
43
Intel Corporation
18
Target Corporation
44
Google
19
Lockheed Martin
45
Merck & Company, Inc.
20
Ford Motor Company
46
AARP
21
Pacific Gas & Electric
47
Bristol-Myers Squibb
22
The Boeing Company
48
Major League Baseball
23
Hilton Worldwide
48
Compass Group USA
24
Walgreens
49
Facebook
25
Comcast Corporation
49
Royal Dutch Shell
25
Wells Fargo
50

PricewaterhouseCoopers

26
Microsoft Corporation
50

Kaiser Permanente

26
Avis Budget Group
50
VMware, Inc.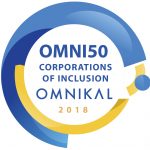 About OMNIKAL
OMNIKAL was founded in 1999. Now the Nation's largest inclusive business organization, OMNIKAL promotes entrepreneurship and the belief that entrepreneurs create real world solutions to today's business and economic challenges. By fostering deeper and broader collaboration between business owners and entrepreneurial support organizations, the OMNIKAL network fuels healthier ecosystems through job creation, professional development and drives innovation resulting in strong economic growth.
Pre vote press release:  https://www.omnikal.com/2017/11/omni-50-election-2017/
Press Contact: Quantise Rodgers | Director of Communications | OMNIKAL | 203 255 8966 | quantise@omnikal.com | www.omnikal.com |