Spend Doesn't Matter
By Kenton Clarke
Founder & Social Entrepreneur |
Omnikal
Omnikal serves over 2,00,000 members and we receive feedback regularly from business owners who usually talk about two main themes.
Focus of large corporations on growing well established diverse companies
Too much attention to "Spend" figures.
We all know that supply chain strategies require a supplier to have a minimum scale and scope to enable global competitiveness of its customers and in a major corporation: "What Gets Measured Gets Done".
Mission
It has been clear for the last few years that supplier diversity exists for 3 main reasons:
To increase market share within multicultural/diverse communities.
To include companies in the supply chain owned by historically under represented groups thereby creating wealth for these groups.
Government contract spend requirements.
Supplier Diversity programs have created an annual goal to increase year over year diverse spend. From the data presented below, it is proven that the mission hasn't been achieved and has nothing at all to do with reaching the mission. In fact, it significantly imbeds progress in addressing items 1 and 2.
Supply Chain Strategy
The move to have fewer suppliers with a large spend has certainly created some very large and successful diverse owned companies. Or has it? If one were to take a close look at the percentage of ownership, the number of diverse employees, the location of the company and where its employees reside you will find not only are we all participating in smoke screen results but very few times are we creating generational wealth for a diverse business. The reason for the latter is most companies that pass over  $100 million dollars in annual revenue have establish themselves as high quality, profitable and sustainable companies that become the target for takeover's by non-diverse companies.
Hiding behind Certification?
To make matters worse, I estimate that nearly 30% of reported diverse spend is going to companies owned by individuals that have been in the United States less than 12 years. The employees of these companies, while being a high percentage diverse, are also highly educated and most have advanced degrees. They average being in the U.S. less then 7 years. So the question is, what communities are we reaching that have been historically underrepresented and why is this spend considered supplier diversity?
One would need to know the history of certification, when and why it came about and the decisions to include certain groups to appreciate why it has no place in the current marketplace.
There are only 20,000 businesses certified by third party certification agencies and another 100,000+ certified by Federal, State and local governments. Of these, most have gone through the process because "someone told them they had too". It still represents less then of 1% of the (by any ones estimates) over 10 million traditionally defined diverse owned businesses.  And by the way ………. everyone can now get certified somewhere, somehow today!
Market Share
Are specifics on market share, segmentation, size, and growth of the U.S. multicultural market considered to achieve point number of the mission from above? Do you have an in-depth analysis of the attitudes and behavior of multicultural consumers to determine if diverse procurement spend has any effect on purchasing habits?
While "multicultural markets" encompass segments ranging from ethnicity and race to sexual orientation and geographic dispersion, the sector getting the most play today is the rapidly swelling Hispanic-American market. Known as the majority minority, this booming segment–expected to surpass $1 trillion in buying power in a few years–is spawning many multicultural marketing initiatives.
There is a huge disconnect in meeting "Mission number 1" based on the current diverse spend with Hispanics shown in Figure 1.1.
So what companies becomes your fan club? What has the most impact? A $1 million contact award to a 50 companies each with 10 diverse employees or a $50 million contract to one company with 10 diverse employees?
Spend Analysis
Our research for the "Top 500 Diverse Owned Companies" shows aggregate revenue of nearly $53 billion.  $104 billion has been reported by a third party agency of diverse spend among Fortune 500 companies. The Top10 diverse owned companies received nearly $20 billion total spend. This means that approximately 10 diverse owned companies received nearly 20% of total spend reported by Fortune 500 companies. It also means that 50% of all spend went to only 500 diverse owned companies. But the most important number is that 40% of spend with the Top 500 companies went to the Top 10 companies.
Spread
How many diverse companies are participating in spend?
The Top 500 diverse owned companies have over $53 billion in annual revenue that represent over 50% of all reported diverse spend
Are companies with less $100 million in diverse spend as effective in meeting the mission as companies spending over $1 billion?
What has the greatest impact?
A $50 million contact to one company
50 $1 million contract to companies in one geographic area
Can we continue to hide behind ……… It's too hard to manage too many suppliers?
They are too small to be suppliers but large enough to be customers
Is it true? Spend doesn't matter!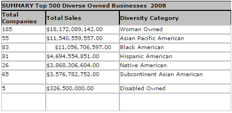 The Big Shift
Looking at the above chart, it's interesting to note the Asian Pacific and Black American gross sales figures. In 2008, both groups had about $11 billion dollars in annual gross revenue. (10) Years ago more then 60% of the Asian Pacific spend would have been in the Black American category. The shift in these dollars (mostly in IT spend) represents a huge setback to both mature African American business owners and new startup entrepreneurs. By all measures, this group has been under represented and continues to be economically deprived (limited) of participation in the American dream.
Spend Bleed
Imbedded in the total corporate spend is also an unknown number derived from data scrubbing. A process used quite heavily for the last 5 years, with the purpose in finding diverse spend within accounts payable records that weren't tracked through supplier diversity. The use of this spend in reported dollars is questionable as it accounts for "No Effort" in sourcing and takes credits for apparent supplier diversity efforts.
The total $104 billion corporate spend is also blurred because of the inclusion of 2nd tier reporting spend by some companies.
In the final analysis, we see that a tremendous amount of effort and resources are being used to service an insignificant number of diverse owned companies but it appears to the public that there are efforts for a much greater inclusion.
Who Knows
World-class procurement organizations spend 30% less on procurement operations than their peers and operate with nearly half the staff. The supplier diversity function within procurement should make more efforts to work with internal organizations. They also should become more involved with external organizations that are focused on multicultural market and diversity advertising as opposed to the traditional path of belonging to business development groups only.
If the end-game for SD initiatives is to achieve the goals of the mission then it seem
Supplier Diversity programs need to look at these areas:
How are Chief Diversity Officer, Marketing, Advertising, Sales, Communications and Human Resources departments involved with your supplier diversity efforts?
How many internal/external people know of your spend? Is it in the millions or just in the diverse business network of a few thousand?
Has your spend motivated the diverse marketplace to:

Choose your company as a preferred product/service provider?
become employer of choice?
~ Kenton
---