Kenton Clarke
Founder & CEO
Kenton Clarke
Founder & CEO
"Become a computer programmer and make $10,000 a year!" I found that ad on the back of a matchbook when I was a young man with an ambitious soul, and it called me. I saw a way of changing my life and I went after it. I stuck with it and it worked out even better than I ever imagined it would.
I was a young child when I began my businesses career. It wasn't what you'd expect and it definitely wasn't glamorous, but hard work almost never is. I started out in the streets of Bridgeport, CT, collecting trash alongside my father and grandfather, some of the city's first African-American business owners. It was those early days in the trash business that taught me the value of hard work and discipline. I spent my early years getting my hands dirty, while other kids were learning to keep theirs clean.
I've been an entrepreneur right out of the gate. I learned quickly how, with a little ingenuity and motivation, I could turn trash into treasure. Starting with what I had, I began by finding a market for old newspapers and soda bottles. It took 100 lbs. of newspapers for me to make $12 and I got 2 cents for every soda bottle. This was too small for most people, but I saw it as $12 more than zero. This system became my first entrepreneurial enterprise, gave me a hunger and thirst for success and the drive to make my vision become reality.  Once I hit high school, the thing that made it real was when I drove past most of the kids on their way to school and pulled into the parking lot with my brand new Camaro.
It's ok to be different, in spite of what everybody else might think. I had to believe that in order to launch my business. I still believe that. That's why I allowed myself to step away from a profitable job in order to launch my first company, Computer Consulting International Inc. We became one of the largest privately held information technology consulting firms in the Northeast. After success there, I went on to develop a strategy for helping connect companies who were interested in working with minority-owned businesses. Diversitybusiness.com was born and became the place every media outlet from Forbes to CNBC would go to for their facts and figures and it even won several awards for its content and design.
I've been awarded a lot of things in my life. Most of these are business awards, like congratulatory letters from U.S. Senators, being named 'Top Black Entrepreneur' and having my business named 'Top Minority-Owned Business in the U.S.A.' by the SBA. I've done well for myself and I've always worked hard to support my family and those around me.
Recently, I began to really revaluate who I am and what I represent. What do I want to be known for? What difference does my life make and what legacy will I leave? In that place where professionalism and personality meet, I came up with a plan to offer something no one has ever offered, in a way and to a degree that no one has ever been able to offer before.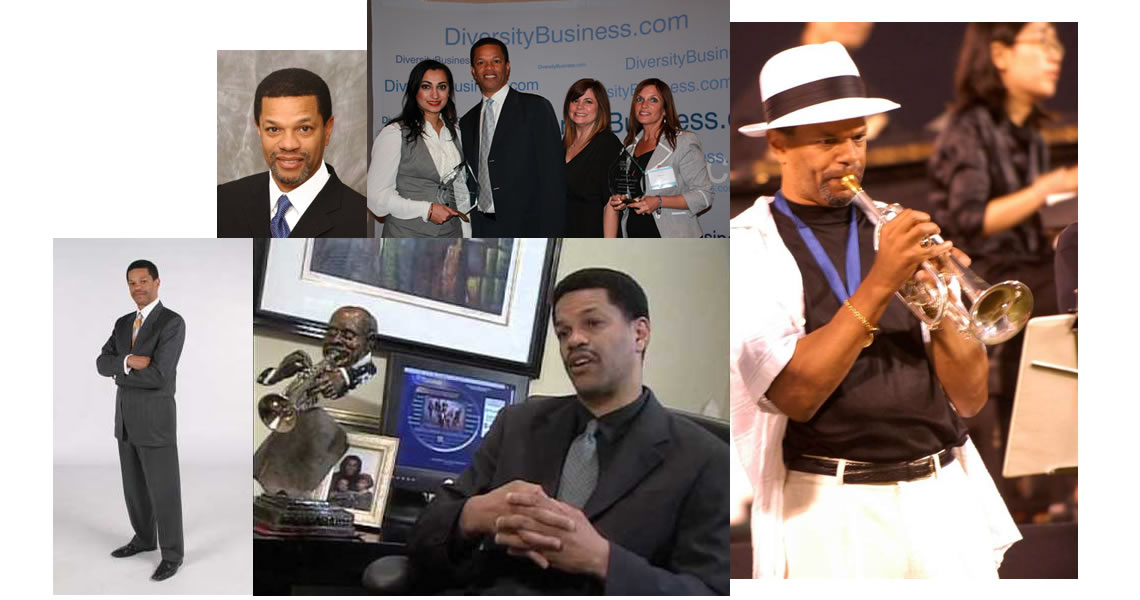 Omnikal is the culmination of everything I stand for personally and professionally. It's the result of the discipline I learned selling newspapers and bottles for profit and making money out of things other people always overlooked. This is the thing I was being prepared for all those years ago, working in the trash business with my father and grandfather. This is the door that flimsy matchbook cover lead me to, even though I couldn't see what it would become. This is what every sacrifice, every heartbreak, every tear, sweat, failure and success have led me to and I am proud to share it with the world.
If I really had to tell you a few things about myself, I'd share with you how I've raised three children that are the most important people in my life. I'd share with you how I was inducted into the World Drum Corps Hall of Fame and how I'm also a member of the Bugler's Hall of Fame, because of my work and dedication with the bugle and trumpet. I'm very proud that I've taught the bugle and trumpet to hundreds of students and I'm even more proud of the positive influence I've been able to have in their lives. I'd probably also share that I'm not too big on a bio page, but at the end of the day, I guess if somebody really wants to know what's going on with this organization, they need to know something about the people who put it together!
But I'd rather leave you with this. This is for all the entrepreneurs out there or those who are feeling drawn to become one.  "You have to have it in your heart that you're not going anywhere but forward. Even when you're stuck in that place and you're not going anywhere, you don't really think about 'this is not working'. You're sort of married to yourself and you're not getting divorced, so it's got to work." I hope you can make this your mentality, perseverance your motto and OMNIKAL your platform of choice for moving you forward. I wish you all the success in the world.
Kenton Clarke has also won multiple industry awards and accolades including:
US Black Engineer & Information Technology Top Entrepreneur of the Year
Regional Minority Small Business Person of the Year Award from the US Small Business Administration
Ernst & Young's Southwestern Connecticut Entrepreneur of the Year Award
Connecticut's "Small Business Person of the Year" Award from the SBA
US Small Business Administration Nation's Top Diversity Owned Business Award
Entrepreneur of the Year, National Association of Black Accountants
Shining Star Award, Connecticut Minority Purchasing Council
Distinguished Alumni Award University New Haven
Distinguished Alumni Award Norwalk State Technical College
Active Member Buglers Hall of Fame