'The Omni50 has become the nation's leading barometer of organizations that have achieved recognition among the Inclusive Majority population.'
The Omni50 is a listing of the top 50 corporate and government buyers of products and services from an inclusive supply chain throughout the country.
It represents the voices of over 2.1 million privately owned businesses representing every segment of people that make up the face of the United States.
To participate in the 2019 vote, visit OMNI50/Vote2019
The Business Power of an inclusive supply chain results in…
more buying power
upleveling this group's lifestyles
building more affluent communities
and growing economic muscle
…in multicultural markets that are now considered the Inclusive Majority.
While other awards and "top" lists crown companies for overall economic growth, returns to shareholders and similar metrics, the Omni50 is an indicator of which organizations provide the best and the most business awarded to diverse-owned companies. This in turn attracts more corporations, as they compete for market share in multicultural communities.
'In a marketplace that is increasingly as sensitive to inclusion as it is to revenues, recognizing the top buyers of multicultural products and services is becoming a natural part of the new socioeconomic food chain.'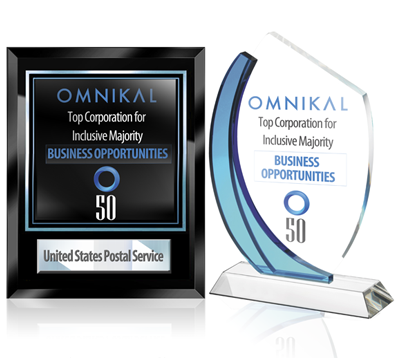 Those organizations that buy the most products and services, most consistently, from businesses through their impact sourcing program and that sustain the most mutually beneficial business relationships with their inclusive supplier base, should be recognized not only by the entrepreneurs that represent that supplier base, but also by the general public that embody their customer base.
The annual list is produced by an unbiased online survey by privately owned companies. Over 2.1 million businesses were asked to answer 10 questions about inclusive business practices in the marketplace. Their answers were based on factors such as volume, consistency and quality business opportunities granted to companies targeted for impact sourcing opportunities.
The list of awardees is circulated by over 1,000 organizations that distribute it to their members and associates; it thus reaches millions of consumers every year.

Rank
Top 50 Corporations
Rank
Top 50 Corporations
1
Apple Inc.
27
The Home Depot, Inc.
2
Walmart Inc.
28
Capital One Financial Corporation
2
Northrop Grumman Corporation
29
MetLife, Inc.
3
AT&T Inc.

30
Pfizer Inc.
4
IBM
31
Prudential Financial
5
The Coca-Cola Company
32
Nestlé
6
Bank of America
33
Nationwide Mutual Insurance Company
7
Raytheon Company
34
New York Life Insurance Company
8
Verizon
35
Molson Coors
9
General Motors Company
36
Cardinal Health
10
Time Warner Inc.
37
CVS Health
11
PepsiCo Inc.
38
Fannie Mae
12
United Parcel Service
39
Nordstrom
13
Cisco Systems, Inc.
40

JPMorgan Chase & C

ompany
14
Colgate-Palmolive Company
40

Nielsen Holdings PLC

15

Altria Group

41
Starbucks Corporation
16
The Kroger Company
42
The Kellogg Company
17
Toyota Motor Corporation
43
Intel Corporation
18
Target Corporation
44
Google
19
Lockheed Martin
45
Merck & Company, Inc.
20
Ford Motor Company
46
AARP, Inc.
21
Pacific Gas & Electric
47
Bristol-Myers Squibb
22
The Boeing Company
48
Major League Baseball
23
Hilton Worldwide
48
Compass Group USA
24
Walgreens
49
Facebook
25
Comcast Corporation
49
Royal Dutch Shell
25
Wells Fargo
50

PricewaterhouseCoopers

26
Microsoft Corporation
50

Kaiser Permanente

26
Avis Budget Group
50
VMware, Inc.